HDR Photo's by kind permission of Sandy www.flikr.com/photos/photator
We have also developed a worldwide network of ground based medical transport services, with whom we have been associated for over the thirty years that years HAA has been trading. This gives us the opportunity to offer a one stop service for ground private ambulance services in most countries with a uniform invoicing process.
HAA operates vehicles that are custom built to our own high and exacting standards by a major North American ambulance constructors. Safety and comfort features within our medical transport vehicles exceed the KKK Standard, recognised as the highest in the world. All of these have air-conditioning and full life-support equipment which is constantly updated. These vital ground private ambulance vehicles are used to link aircraft and hospital, front line emergency work for NHS Ambulance Trusts and are widely used for longer journeys in the UK and into Continental Europe.
We are the first independent ambulance service to use the new Stryker XPS Bariatric Cot conversation. All are vehicles are equipped with this kit over the next couple of months, allowing us to care for your Bariatric clients.
Service and maintenance of our modern private ambulance fleet are carried out to the letter of the manufacturer's specified recommendations by our own skilled mechanics who have attended detailed training in North America. Only genuine manufacturer's parts are used during service of our vehicles. All these factors combine to ensure that these 7.3 litre turbo charged fast response cars are able to respond safely and reliably whenever needed.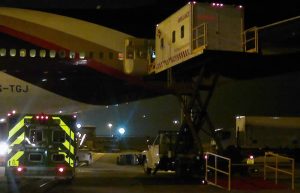 Daily life at Heathrow
The company's fleet of dedicated and modern private ambulances also includes three medical hi-Lift vehicles specially designed to assist in the removal of stretcher patients from our aircraft.
Our independent ambulance transport vehicles are designed with crash stable stretcher and patient compartment, air conditioning front and rear. Advanced interior and communications systems, combine to make these fast response cars the most reliable, safe and patient orientated independent ambulances available in today's market.